Powder Coated Steel

Powder Coated Steel Partitions
Powder coated steel offers the best value in durability, appearance, and affordability. The toilet partitions are built from the inside-out to emphasize strength. We start with a fully honeycombed interior that not only promotes stability but also highlights the sound-dampening properties of the divider. All of the components are tack-welded together to create a solid core that supports structural reinforcement. The construction of each toilet partition is completed with superior full-corner exterior welds to maximize toughness.
---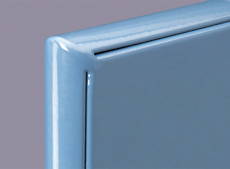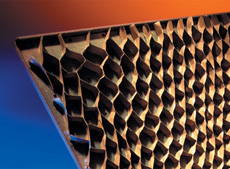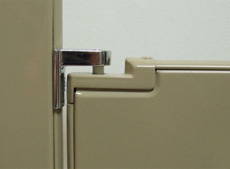 The finishing process starts by electroplating each partition with powdered paint to achieve a uniformity and thickness that's impossible to accomplish with wet paint. The partitions are finished with an oven cure, creating a product that won't chip, flake, delaminate, or warp. The coating is perfect for low maintenance and long-term toughness with a finish that's so durable it can be treated with commercial-strength graffiti removers without being damaged.
These partitions are fireproof, and the powder coating won't emit toxic fumes even when subjected to extreme heat. Because the environment matters to us, 50 percent of the materials in each door come from recycled content. Keeping costs low is also important, and powder coated steel partitions can be as low as half the cost of other materials.
Powder coated doors, panels and pilasters are structurally reinforced with 1" thick cell honeycomb bonded from top to bottom and edge to edge throughout their entire core. The honeycomb reinforcement enhances strength, sound absorption and overall impact resistance.
Hadrian's partition hardware was designed to complement each of these characteristics. Die-cast from zinc and triple-plated with copper, nickel, and chrome, these accents are every bit as beautiful as they are functional. The hinges are inset within the thickness of the door to create a clean, streamlined look. Our patented thumbturn lever is constructed to promote ease of use and conforms to ADA standards and Canadian barrier-free specifications. The exterior of the handle features an emergency access slot, allowing the door to be unlocked quickly if a situation arises while still being sleek and unobtrusive. We can mount the toilet partitions from the floor, ceiling, or both, and offer optional headrail bracing for heavy-use areas.
Designed, constructed, and finished to meet the unique requirements of restroom environments, our powder coated steel dividers set the standard for what partitions should be.
Restroom Partition Mounting Types
Restroom partitions can be mounted using four different mounting styles. Headrail braced is the most popular type of mounting. Deciding on how to mount your partitions depends on the design of your room and the overall look you are trying to achieve. Make sure that you have backing in the walls and ceilings where you plan to mount the partitioins.
---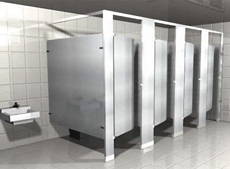 Headrail braced compartments are a great choice for virtually any facility. These units are especially recommended in heavy-use areas such as schools, institutions and industrial settings. The anti-grip top rail deters boisterous activity while ensuring a rigid and secure installation.
The clean lines of floor mounted units lend an air of spaciousness to these installations. The absence of top structure makes them the ideal choice for high ceiling areas and allows a wide range of complementary architectural and interior decoration possibilities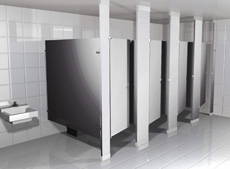 Floor to ceiling units are extremely strong and resistant to abuse as they are securely connected to the floor, ceiling and walls. This configuration is ideal for high abuse areas and installations that require extra durability.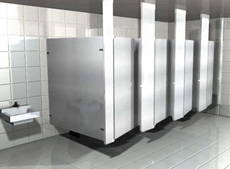 Ceiling hung units present a clean, contemporary appearance. They permit quick, easy floor maintenance, especially when combined with wall-hung fixtures. Ceiling hung partitions are recommended for modernization where a drop ceiling or open span construction can be used.
Powder Coated Steel Partition Colors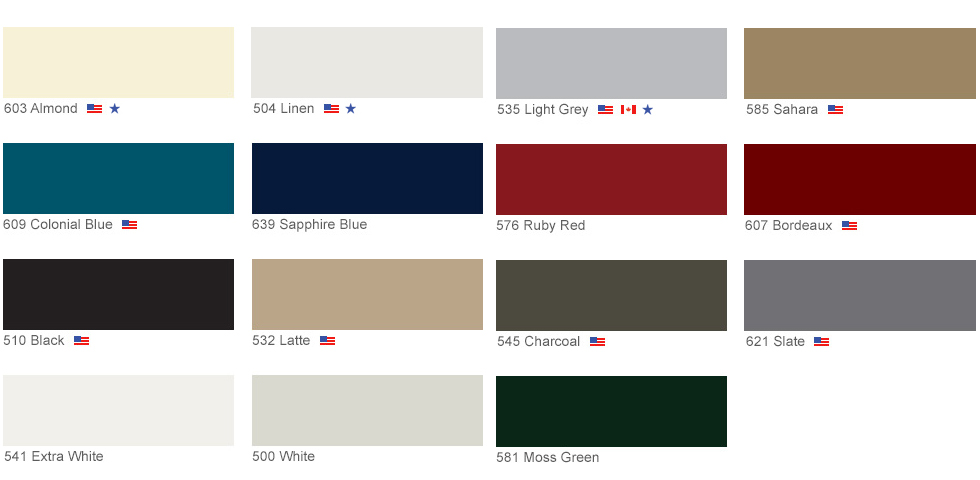 ---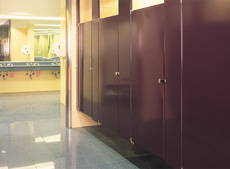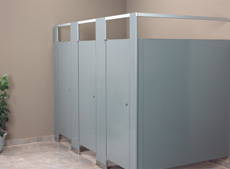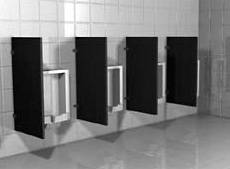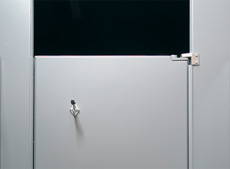 Hadrian's standard series toilet partitions feature 58" high doors and panels, which are mounted 12" above the finished floor.
Available in headrail braced, ceiling hung, floor mounted and floor to ceiling styles.
Hadrian's Elite Series toilet partitions offer increased privacy with 64" high doors and panels, mounted just 6" or 9" above the finished floor. Continuous channels eliminate all sightline gaps. Available in headrail braced, ceiling hung, floor mounted and floor to ceiling styles.
Wall Mounted Urinal & Privacy Screens
This simple and economical design features a 48" high screen, which meets International Plumbing Code (IPC) requirements and permits easy maintenance and floor cleaning.
Floor Mounted Urinal & Privacy Screens
Features a 58" high screen and floor mounted pilaster for extra support.
Hadrian's "No-Sightline Solution" completely eliminates all sightline gaps around doors with full height continuous stops and hinge side fillers. There are no exposed fasteners on the exterior, of the toilet partitions which promotes a clean, unobtrusive appearance.
Full height continuous stop distributes force evenly along the door
Continuous stop includes a full height rubber bumper to deaden sound and protect against wear
Metal keeper ensures secure latching and long lasting performance
Extruded aluminum components are powder coated to match the finish of the toilet partitions
Available for standard, Elite and Elite Plus toilet partitions
Toilet Partition Upgrades
---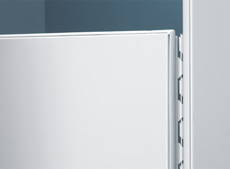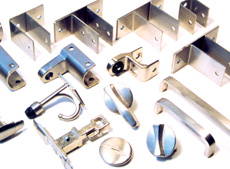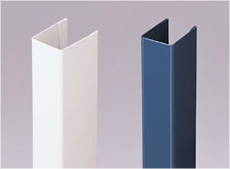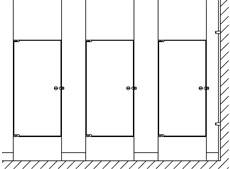 Heavy Duty Continuous Hinge
Hadrian's economically priced continuous hinge is ideal for high-abuse areas where extra strength and durability are a concern. Made with heavy-duty material, the continuous hinge is available in powder coated or brushed stainless steel finishes. A stainless steel hinge pin is standard on both models. As an added value, Hadrian's continuous hinge obstructs the sightline on the hinge side of the door.
Stainless Steel Hardware Package
Hadrian offers stainless steel hardware package is available, featuring:
Stamped stainless steel, #4 brushed pilaster, panel and screen brackets
Cast stainless steel, #4 brushed wrap-around door hinges
Stainless steel, #4 brushed TR-27 6-lobe security screws
Stainless steel, #4 brushed pilaster shoes
Full Height Continuous Channel
Full height continuous powder coated channels are available to eliminate the sightline gaps for all panel to pilaster, panel to wall and pilaster to wall connections.
Junior Height Toilet Partitions
Ideal for pre-schools and other facilities that cater to young children, junior height toilet partitions feature smaller than normal doors (just 48" high), while still utilizing full height pilasters. Junior height partitions are available in headrail braced and floor mounted styles.